Heerlijk vertoeven in Café de kroeg
Sport, spel, gezelligheid & speciaalbieren.
Bij ons ruim opgezette café zijn jong en oud van harte welkom. Maak gebruik van de diverse spelen of kom een avond sport meekijken op onze 2 grote schermen. Gezellig een avond met vrienden of een vereniging houden? Wij serveren een breed assortiment speciaalbieren en de daarbij behorende hapjes zodat jullie de sterke verhalen rijkelijk kunnen laten vloeien. 
Architecto beatae vitae dicta exslicabo enim ipsam volus tatem volustas asner natur furit masni dolores ratione nesciunt.
Iedereen die van een speciaalbiertje houdt kan zijn/ haar hart ophalen bij Café De Kroeg. Wij bieden een breed scala aan lokale, nationale én internationale bieren. Combineer de proeverij met een tapas plank en de avond is compleet!
Wekelijks organiseren wij poolwedstrijden, echter zijn onze tafels ook voor recreatief gebruik! Liever iets anders? Wij hebben een pooltafel, darts en nog een aantal andere spellen voor een ontspannende middag/ avond.
Café De Kroeg speelt alle belangrijke FOX Sport wedstrijden af, uiteraard ben je vrij om een wedstrijd te kijken die niet in de planning staat. Vraag ons personeel gerust de beamer op je gewenste kanaal af te stemmen.
Voor iedereen die lekker aan de bar wilt hangen of aan tafel wilt genieten van een drankje is ons café uiterst geschikt. Wil je een dag inplannen voor een privé feestje? Dat kan! Neem dan vrijblijvend contact met ons op.
Onderstaand vind je alle ins- en outs over café De Kroeg en bekijk je de komende evenementen.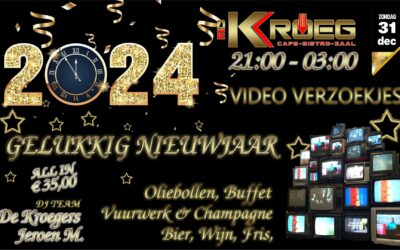 Oud & Nieuw | Video Verzoekjes! Oud en...
Een hapje eten in Bistro De Kroeg? Ons personeel staat voor je klaar met een glimlach!